Do you know what a VPL is? Visible. Panty. Line. Nothing ruins an outfit — or a runway look — like VPLs. Just ask Kerry O'Brien, the founder of invisible underwear brand, commando, the go-to undergarment choice for NYFW designers, Hollywood and consumers alike.  O'Brien founded Commando in 2005 starting with a thong, and took the engineering approach to underwear. She pioneered the "raw cut": panties with no seams, elastic, or trim on the edges. They stay put, don't indent the skin or leave the dreaded VPLs.  Today the brand offers an extensive catalog of women's undergarments, accessories, and swimwear.
The fashion industry has, of course, quickly taken note of commando's offerings — since 2011 O'Brien has supported the runway looks for  3.1 Phillip Lim, Altuzarra, Rag & Bone, Milly, Rodarte, Zac Posen and Opening Ceremony, to name a few. Not to mention the fact that commando has also become the go-to for every award show and red carpet.
With New York Fashion Week just around the corner, we caught up with Kerry O'Brien to talk why what lies beneath is the key to a flawless look, and much more.
FashionFiles: Commando is the top intimates choice of celebrity stylists and designers. Tell us how it all started? How did you discover you have a passion for undergarments?
I started commando to create the underwear that I wanted to wear. My background had been in financial public relations, so I came at design from an entirely different angle. Having an outsider's perspective made me question materials and construction in a way that someone more classically trained may not have. Not being brought up in the industry has turned out to be a huge asset.
FF: Where does the name Commando come from?
The name comes from the saying "going commando", which of course means wearing no underwear. But that's exactly how I want women to feel in my garments— so comfortable that they don't even know they're wearing them! And when people hear the company's tagline, which is "better than nothing", it always gives them a chuckle. I love that.
FF: You are a former financial publicist. How did you transition from the corporate world to owning your own fashion company?
I knew I was ready for a change, and I had left my job in PR and was planning my next move. I had the idea for commando and I started testing the waters. It just became clear very quickly that this was exactly what I was supposed to be doing. I started small, took manageable risks, and did absolutely everything myself in the beginning. And the market really responded to commando. It was clear that the product was filling an unmet need.
FF: It's been almost 15 years since Commando launched. For such a short period, you have managed to become the go-to undergarment brand for designers, stylists and consumers alike. What do you attribute your success to?
Women— whether celebrities or consumers— know that they can trust commando! I personally wear test every single style that commando makes, and if I don't like it, it doesn't make it to market. We use the very best fabrics from some of the finest mills in the world. I never skimp here. I would rather make a little less money and have a better product than vice versa.
FF: When did you realize that Commando has become a huge success story?
When The New York Times ran a feature on commando in the Sunday Styles section on the morning of the Academy Awards. I was in New York at the time and went down to a corner store at midnight to buy the paper. There were so many wonderful quotes and endorsements from people who I admire in the industry. I started high-fiving the guy behind the counter. That's when I realized what commando had become.
FF: What are the brand's moments you are most proud of?
There are so many, but I think one of my recent favorites is when Serena Williams was photographed by Annie Leibovitz for the cover of Vanity Fair, wearing nothing but her commando thong. She was pregnant and looked so beautiful and powerful. I saw it and I thought to myself, "This is one of the most amazing athletes in the world, being photographed by one of the most amazing photographers in the world, and she is wearing nothing but commando."
FF: Why and how is commando different from other garment brands?
Commando is the most fashion-centric intimate apparel brand, in my opinion. Our garments are meant to be these foundational basics that you can really build a wardrobe around. That's why we have a line of ready-to-wear inspired intimates and hosiery that can can use to style your look. These are pieces that make getting dressed so, so easy! And of course, they're also insanely comfortable.
FF: You are also a staple at New York Fashion Week. Describe your relationship with designers and how commando fits the needs of the runway?
I'm happy to say that this has happened very organically— we don't have any paid sponsorships. Designers use commando because they love commando. It's such a great endorsement of the brand. These designers understand how important the right undergarments are—and they could use any brand in the world!— but they choose commando. And I've loved to see how their approach to using our garments has evolved over the years. At first, it was all about the underwear remaining invisible. Now, so many designers are intending for it to be seen.
FF: Who are you working with for SS18?
We are lucky to have many longstanding partnerships and usually are included in over thirty shows each season. Designers like Prabal Gurung, Tibi, and Rebecca Minkoff will be using commando again this season. I'm also so excited that we'll be working with Ulla Johnson for the first time!
FF: What are your thoughts on the fact that underwear is having a fashion moment?  Underwear as (almost) outerwear if you will?
Women are thinking about underwear in a different way! I like to say that what used to be called "unmentionables" are now the conversation! It just shows that women are tired of following the rules around what to wear and how to wear it. There is no line between underwear and ready-to-wear anymore.
FF: What are your Commando must-haves?
I love everything we make, but I would say that I couldn't live without our classic thong for day and our cotton bikini for night. Every woman should also own a good slip, and commando's is great. Our patented hosiery is truly life-changing and women stop my on the street to tell me so. And I love our new faux leather leggings so much that I would wear them everyday. They are comfy, slimming, and look like leather… but you can WASH them! And our ballet body bodysuits are so chic with any fashion skirt.
___________________________________________________________________________________________________________________________________
commando Giveaway
We are giving away one of Kerry's favorites: the faux leather leggings from commando's fall 2017 collection. With commando's signature internal waistband and firming fabric that doesn't bag or sag, these smoothing wonders are where it's at for a sleek look and all-day comfort.
All you have to do to win is  either comment below and tell us how would you style the leggings, or head to our Instagram for more 🙂 The giveaway is open until Tuesday, September 5 at 11:59pm and is open to residents of the continental U.S.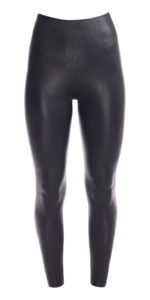 Shop our commando favorites