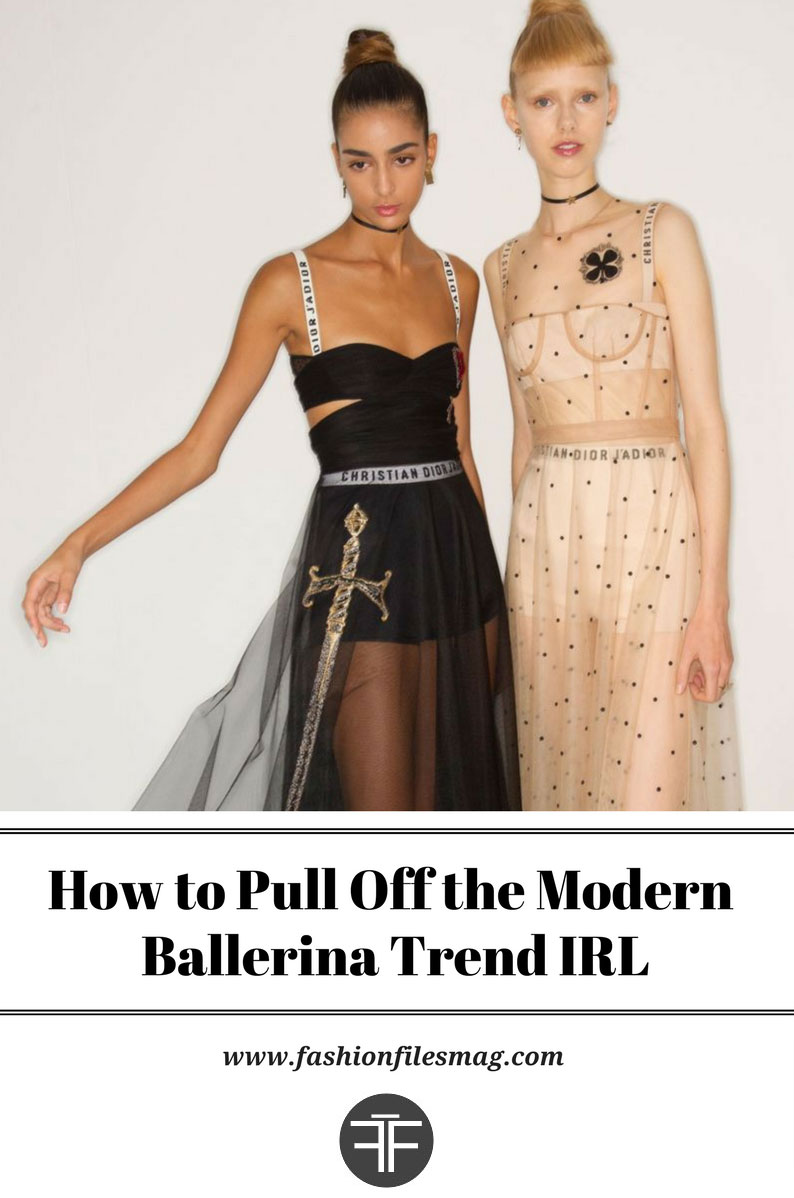 Carrie Bradshaw did it, so why can't you? The re-imagined ballerina look by fashion power houses like Dior and Valentino has been welcomed by the street style set and consumers alike and if you ever dreamt about dressing like a ballerina, then the occasion has finally presented itself: the modern ballerina trend has taken over so we can all look and feel like the pretty dancers, but with a twist.
So how to wear the modern ballerina trend IRL?
Start with  the unexpected. Forget about high heels or strappy sandals. Pair your tulle skirt with a cooler shoe: a low heel, Chucks, flatform, a heavy-duty boot, all would work wonders on the look. Juxtaposing an unexpected shoe with feminine tulle will elevate your look to a new street style level, plus it's so much more comfortable. Bottom line: Whatever you do, do not wear this look with a high heel.
Wear a short, tulle, ruffled skirt with the ever-so-trendy bralet. Be sure the skirt is high-wasted, or pulled above the belly button. Add various length necklaces, chains and a choker, put your hair up in a bun and you'll be as ready to hit Lollapalooza as you will be New York Fashion Week. Chiara from The Blonde Salad, below, basically nails it.
Besides a cropped bralet, you can always pair your ballerina skirt with a slogan tee and complete that rock'n'roll/grunge look. Of course you can always interpret the trend literally and pair your tulle with a classic leotard or super stretchy off-the-shoulder top. (We have a few shopping suggestions below.)
If you want to really take the modern ballerina trend to a whole new level, wear a see through, tulle dress over jeans and a T-shirt. This look is not for the faint of hearts, but hey, fashion is about pushing boundaries and trying new things sometimes.
And more than the clothes, achieving true modern ballerina trend IRL is all about the attitude, plus take a cue from real-life ballerinas and stay en pointe with effortless and graceful posture.
Shop some of our favorite modern ballerina finds.