Last week, Georgina Chapman and Keren Craig, the design partners behind Marchesa, were presented with the first-ever Presidents' Circle Honors by the Costume Council of the Chicago History Museum which honors designers who are making an incredible mark on the fashion world. The award was a much-needed breath a fresh air for the  duo, who — amidst an avalanche of controversy — has managed to stay poised and on-brand. Ms Craig was the only one in town to receive the honors, and to host a meet-and-greet with customers at Neiman Marcus Michigan Avenue, where I managed to steal 15 minutes of her time for a brief chat on how the brand has evolved throughout the years, proudest Marchesa moments and much more.
FashionFiles: You just received a very special award from the Chicago History Museum for a Wonderful Achievement in Fashion, how do you feel about it?
Keren Craig: I have to say, we're so honored to have received this award. It really just means so much to us, and we were just so thrilled to be a part of the history museum. We went to look at the costumes and it's just been a magical day.
FF: What do you think  has brought the brand  where it is now? 
KC: I think it's hard to say when you're so involved in something, but you know as I said, it's just a complete honor. Georgina and I get to do what we love every day, we create fantasies. We like to think we can create a transformation process for someone to feel beautiful and wonderful when they put on one of our dresses.
FF: After so many years designing, and as a woman entrepreneur, what is the most important lesson you've learned so far?
KC: I think staying true to your vision. Because it's very easy to get swayed by people saying, 'Maybe you should try this, maybe you should do that.' And you think maybe you should do something a little more trend-based, or something. But if you really stay true to your original vision of what you wanted to do, then you can do no wrong.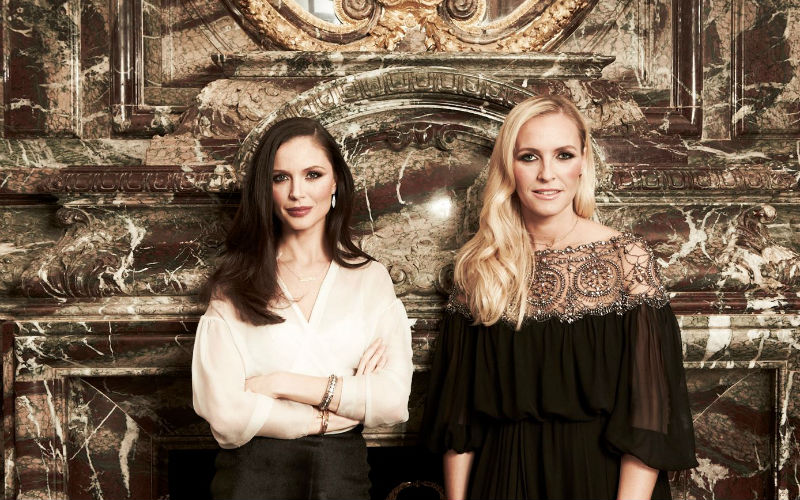 FF: Would you advise young women the same, especially those trying to follow in your footsteps?
KC: Absolutely. I think it's very easy for something to think, 'Oh, maybe I'll do something like that because other people have done well in different fields or something,' but may not be really true to what they believe in. I think you really have to follow your passion and your dream and that's the most important thing.
FF: Do you feel Marchesa  is where it should be right now?
KC: We're very happy because Marchesa is a lifestyle brand, and we just really want to dress the woman from head-to-toe. Now we have our jewelry, we have the clothing – obviously – we have the shoes, we have the bags, we have the tabletop. So we really feel the Marchesa women can be dressed head-to-toe. That was really important so we're really thrilled that we do all of those things now.
FF: When you think back on your career with the brand, what are some moments you're most proud of?
KC: Dressing Sandra Bullock for the Oscars — and she won the Oscar in our dress — was really a stand-out moment for us, and a really proud moment. I think it's important to sort of stand back, because it's really easy when you're wrapped-up in everything because there's always something else to do. But I think thinking back to that time it was really special.
FF: What is the designing philosophy behind Marchesa? 
KC: We're incredibly romantic and very feminine. We're women designing for women. We like to test everything, we like to sit in the dress, and get to know how they feel on and how you feel in them. I think that's the most important thing, to put on one of our dresses and feel you're most beautiful.
FF: When you sit down with your sketch book, what would be the first thing to come to mind?
KC: We always start with an inspiration. So we'll start by making lots and lots of mood boards, and from there we'll start picking little things off the mood boards and that sort of starts the sketch process, the embroidery process, and it's really just a magical fantasy world that we put ourselves in to create these dresses.
FF: You're so lucky!
KC: I know! We are lucky. We get to play dress-up every day.
FF: Walk us through the Spring 2018 collection you just showed in New York. 
KC: It was based on a woman called Aimée Crocker. She was a rather amazing adventurer. She was born in the Edwardian times, and she traveled a lot to the Far East, and that became her obsession. Her travels in China, her travels in Japan, she traveled in Hawaii, she traveled all over. She was pretty well-personalized, she had a lot of fun and we took a lot of inspiration from her. She was obsessed with wearing pearls, so you'll see a lot of pearl necklaces and that was all taken from inspiration from her. You'll see little animals, snakes, monkeys in some of the embroideries and some of the jewelries, and that was taken from her too. She really stood as the inspiration. But once you have these mood boards you sort of go off in different tangents. We took a lot of inspiration from her being in Japan, so you'll see a lot of kimono sleeves.
FF: We ask every designer this question about the see-now-buy-now aspect in fashion. How do you guys feel about it?
KC: I think that in the world of Instagram the new world that we live in people don't want to wait 6-months for anything, and I understand that. For us, we're not there yet. But I think it's certainly something we'll see how it plays out, I think the world is changing a lot and I think you have to be willing and ready to change, as well.
The Fun 5
Who is your style icon? — I would have to say Marchesa Casati.
Your three fashion must haves are? — A great pair of shoes. You have to have a great dress that's a go-to dress, that no matter how you feel about yourself you put it on and you feel great – so it should be a Marchesa dress. And I'm all about jewelry. I'm all about a great pair of big earrings. Even if you have a completely plain black dress you can dress it up with something really fabulous.
Who would you swap a closet with? — Georgina.
If your closet is on fire, what would be the only think you'll save? — It would be a beautiful – sort of a kimono I'd call it – that actually belonged to my father who's deceased, so I would definitely choose that.
Finally, if you were not a fashion designer you would be? —I would be an artist of some kind – a painter.