Nothing is more exciting than a sample sale. After all, these sales are an opportunity to get near perfect merchandise at a fraction of the price. And Chicago fashionistas you are in luck, because one of the most beloved American designers — Rebecca Minkoff — will have a sample sale in the Windy City next week.
The Rebecca Minkoff sample sale Chicago will take place October 23-29 at the designer's store on 106 East Oak Street. Expect up to 75 percent off accessories and ready-to-wear items. Doors open as follows: Monday – Saturday 10-6pm; Sunday 12-5pm.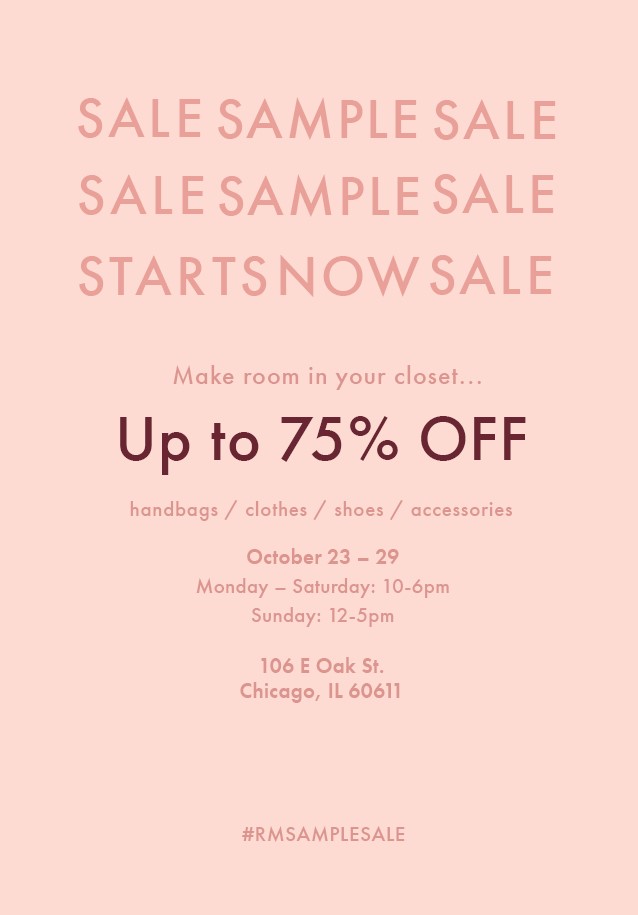 So how to shop the Rebecca Minkoff sample sale Chicago?
The key to any sample sale is personal strategy. After all, you are there to find your bargains and get the best bang for your buck. Here are a few things to keep in mind:
Focus on what you are looking for. There will be many tempting items but stay clear-headed and don;t get overwhelmed.
Don't feel pressured to buy. Just because there are so many discounted items does not mean you will find the items worth your dollars.
Keep your budget in mind. There is a risk of buying something that you will never wear.
Try things on. Eyeballing merchandise for fit almost never works. If there is a dressing room, try thing on.
Try and find that incredible deal, you know the one you've waited forever for. Like a $500 bag for $50 for example (pro tip: for those, try and hit the sale toward the end)
Will you be going to the Rebecca Minkoff sample sale Chicago? What are you hoping to buy?