We are thrilled to introduce you to our December Style Crush girl, Elina Casell Hjalmarsson, whose eponymous blog has been our indulgence since the minute we discovered it a few months back. It's hard not to style crush on the Swedish beauty — she is modern, sexy and chic, and tends to favor classic pieces with a twist. She masterfully mixes high and low fashion, and her approachable style has gained her a massive following.
Besides being a fashion blogger, Elina is a mom, a very busy hockey wife (she is married to Chicago Blackhawks defenseman Niklas Hjalmarsson) and a budding handbag designer who just launched her first collection. We caught up with Elina at her Chicago home and talked fashion, living in a foreign country  and why she chose blogging as her creative outlet.
FashionFiles: Elina, you are a mom, hockey wife, blogger and a budding handbag designer. That's a rather impressive resume. Tell us a little about yourself, how did you get into fashion?
I met Niklas, my husband, in my teen years, right after high school in Sweden. We dated for about seven months before he was drafted by the Chicago Blackhawks and he left for the States to attend camp.  When he came back to Sweden from the two-week camp he told me that the Blackhawks wanted him to come over right away because they thought he had a chance to play in the NHL; he said he wanted me to come with him.  I was in shock, and I cried — we haven't been dating that long and to move to a new country and live together was a little bit scary. I have never had an interest in sports either, I didn't know anything about hockey; and to leave my job, my friends and family was a big thing for me. But I felt that what we had was something special and I wanted to give it a try so I decided to come with him to America. That's when I started my fashion blog. It was more of a lifestyle blog so my friends and family back home could see what I was up to. At the same time I wanted to also show and share my passion for fashion that's always been a part of my life.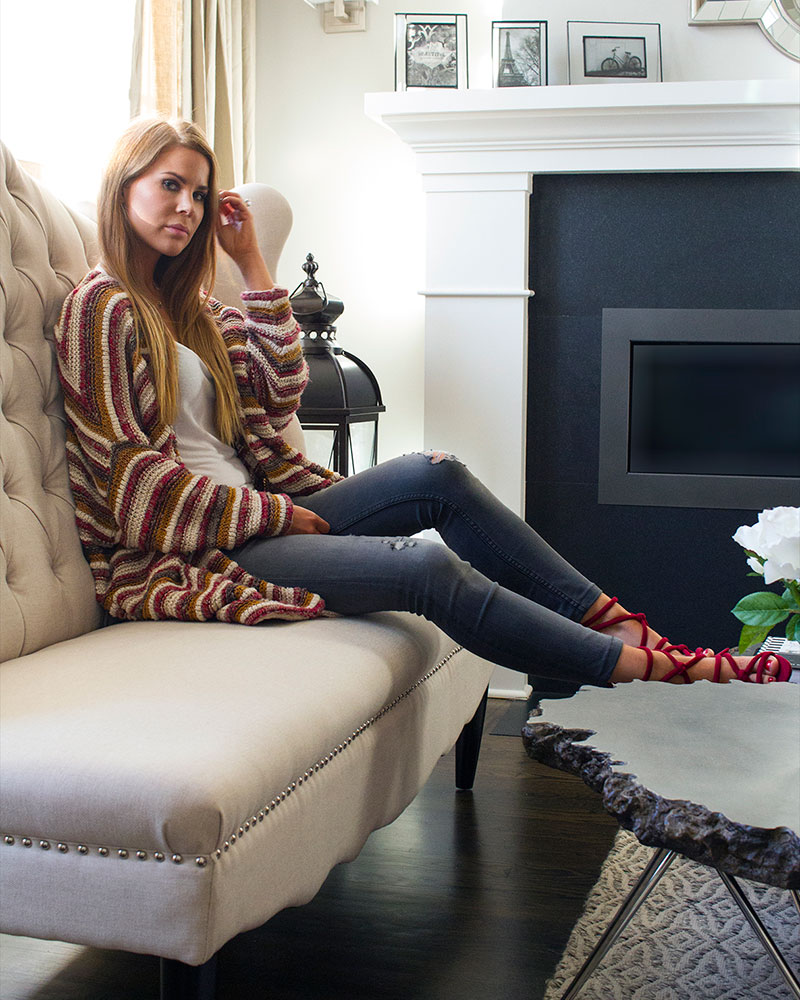 jeans – Zara | tee – Free People | cardigan – Maje | shoes – Zara
FF: You also just launched your first handbag collection in collaboration with Mia Bossi. What inspired you to become a handbag designer?
I've always loved designing and being creative. And I've always had plans of creating my own line someday, but I didn't want to start by selling and creating a whole clothing collection right away. I thought that bags would be a great start. I met Janet Mandell who owns Mia Bossi, and that's when I got the idea of doing a collaboration and that's really how the handbags started.
Shop the Elina Casell x Mia Bossi handbag collection here and get 20 percent off throughout the month of December. 
FF: Do you have any advice for girls who want to start their own fashion blog?
Just think about what you want to do with it. Is it mostly for fun or is it a huge passion of yours? Have a niche, and good quality pictures are important if you want a successful blog.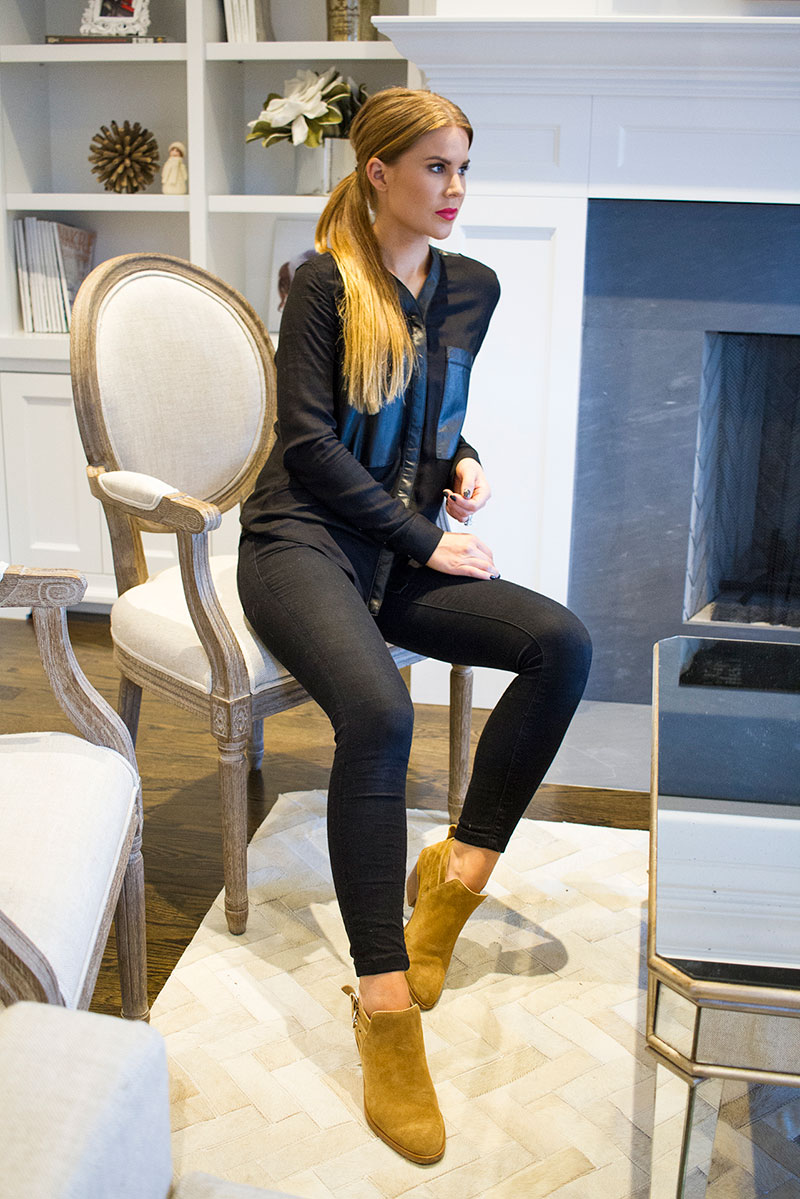 jeans – Zara | shirt – Helmut Lang | boots – rag & bone
FF: Give us a glimpse inside your day – from the moment you wake up till night.
The thing with my life is that every day looks different both for me and my husband. We don't really have regular jobs so our schedules change from day to day.
But it's safe to say that — depending on the day —  my schedule fits into one of these two scenarios.
The very few days I don't have anything on my schedule, I wake up around 9 or 9.30 and then I go wake up my son Theo (yes, he is an incredible sleeper and I am not complaining.) [Editor's Note: This is  Theo, one of the cutest babies around!] We eat breakfast together, Nik is at practice, and then we go to the park together or play inside depending on weather; then we head home for his nap. During his nap I try to get house stuff done like laundry, cooking and cleaning, or answering work emails. When he wakes up and Nik is back from practice around 2-3pm we eat lunch and then we just have family time!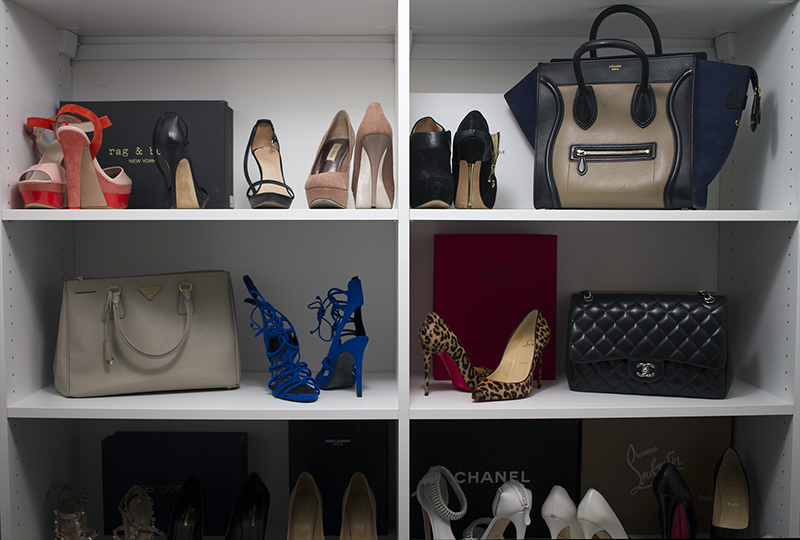 During busier days I wake up around 8am, eat breakfast, head to the gym, come back, shower, have a work related meeting of some sort, photoshoot, work on the computer with blog posts or emails (this takes so much more time then people think!). I have charity events or a hockey game in the evening, I try to go to all home games and support my hubby. And I also have a bunch of other projects I am working on that take up a lot of my time.
FF: Let's switch gears and talk style, because we've been style-crushing on you for a while. How would you describe your personal style?
My personal style as a little bit edgy — a leather jacket is my go to. But I also have more of a classic style as well, with well-tailored skirts and dresses. I also like a sexier fit, to keep it young. But a typical Elina outfit is a pair of skinny jeans, an oversized T-shirt or a knit sweater, with a leather jacket on top and some cool rag & bone boots or simple black pumps.
sweater – rag & bone | skinnies – Paige Denim | heels – Saint Laurent | bag – Chanel
FF: What are your style words to live by?
Keep it simple with a twist.
FF: Who are your style icons?
I love Sienna Miller's style and Kate Moss'. I also love Olivia Palermo, who has more of the classic style that I like. Kate Hudson and Kate Bosworth are two girls with great style as well!
FF: Your closet is on fire! What three items do you save from the flames?
Wow, that's a hard one! But if shoes and handbags count I would say my Chanel jumbo, my Rick Owens leather jacket and my limited addition Celine bag.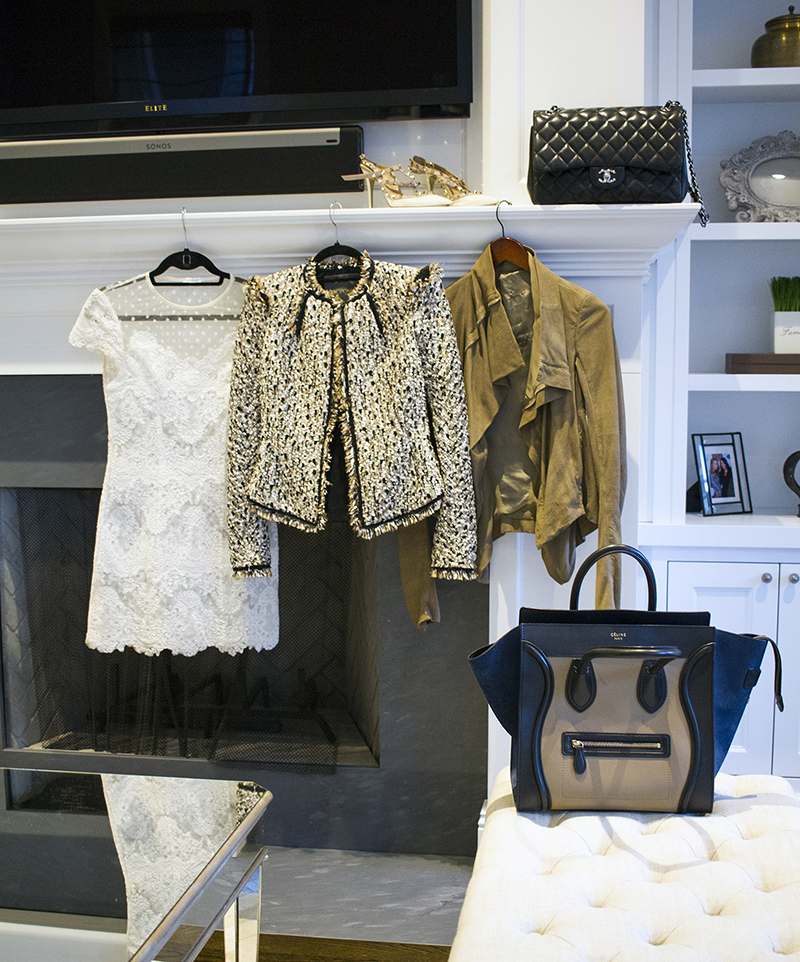 FF: Whose wardrobe would you swap with in a heartbeat and why?
Anna Dello Russo, because she probably has everything you can ever want — both the fun, crazy stuff and the everyday pieces! I would love to be more daring and over the top like her sometimes.
FF: What is the best piece of shopping advice you have gotten?
Quality before quantity.
FF: What is your worst shopping habit?
I buy way too many jackets. [ Editor's note: Can you blame her?! Just look at the ALC studded beauty below. Not gonna lie, during our shoot I wanted to run away with it.]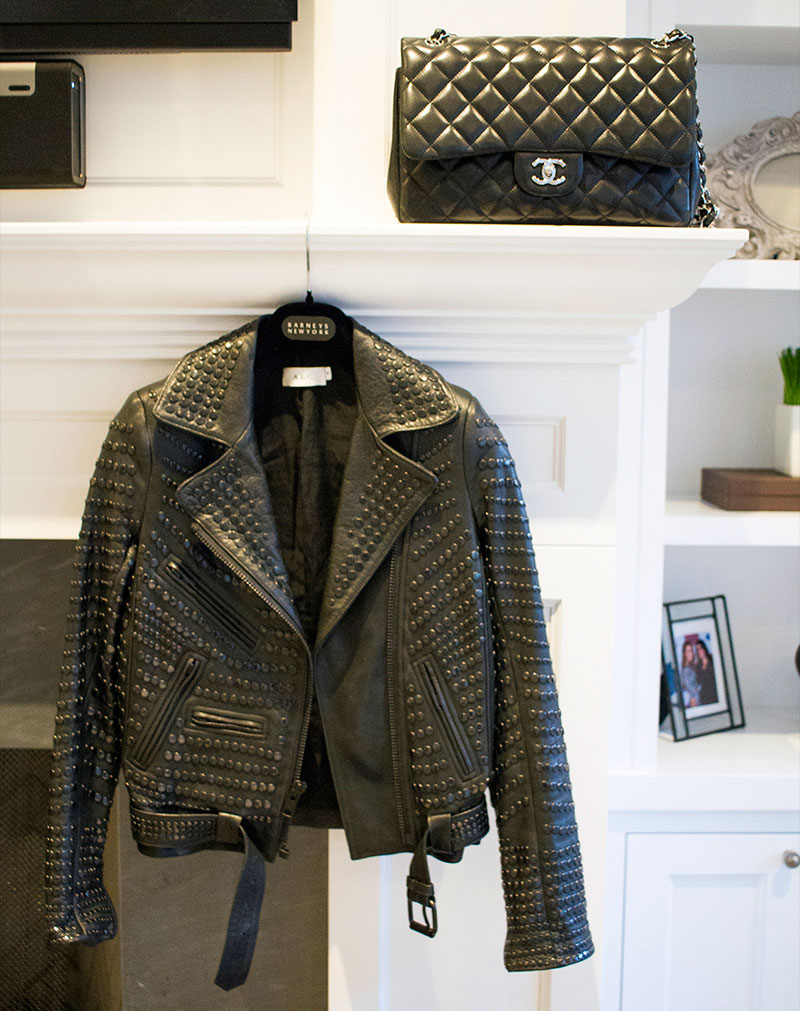 FF: Where do you shop?
Everywhere from Barneys and Nieman Marcus, to Zara and Topshop.
FF: What is your fantasy purchase?
An Hermés Birkin bag.
FF: What's your secret cheapie?
H&M and F21 stuff. You can actually find great pieces there. I might have one or two cute tops or sweaters from there.
FF: Which trend(s) do you really like, and which would you never be caught dead trying?
I really like the long coat trend right now, I have already invested in three new ones, I'm obsessed. I also like the fringe trend, and black and white. The one trend that has come back from when I was a young teenager is the tattoo bracelet, and I can't stand it so that's one thing I won't do (even tho I did wear it during my teenage years, lol.)
jeans – Tiger of Sweden | tee – Free People | bag – Chloé | boots – Stuart Weitzman | coat – Zara
FF: Who is your favorite up-and-coming designer?
Not sure if she is so much of an up-and-coming but I love Reem Acra. Her clothing is like art! Also, Taoray Wang is someone to look out for.
FF: What is your favorite stiletto?
I love my Saint Laurent black pumps. They are classic, work with everything and the most comfortable stilettos I own!
FF: What about favorite jeans?
Love Frame jeans but I think Zara has some good ones too.
FF: What is the one item that every woman should have in her closet?
A pair of skinny jeans for sure.
jeans – Zara | hat – rag & bone | jacket – ALC, sold out, similar | shoes – Vince Camuto | sweatshirt – Sincerely Jules
FF: What is your signature scent?
I have two go-tos when it comes to perfume:  One by Naiomi Campbell and also See by Chloé.
FF: Favorite flower?
Orchids and white roses.
FF: Lipstick?
I usually don't wear lipstick but lipgloss from YSL- 208 wet nude.
FF: Travel destination?
For relaxing Bali, for shopping Paris, for food Chicago :).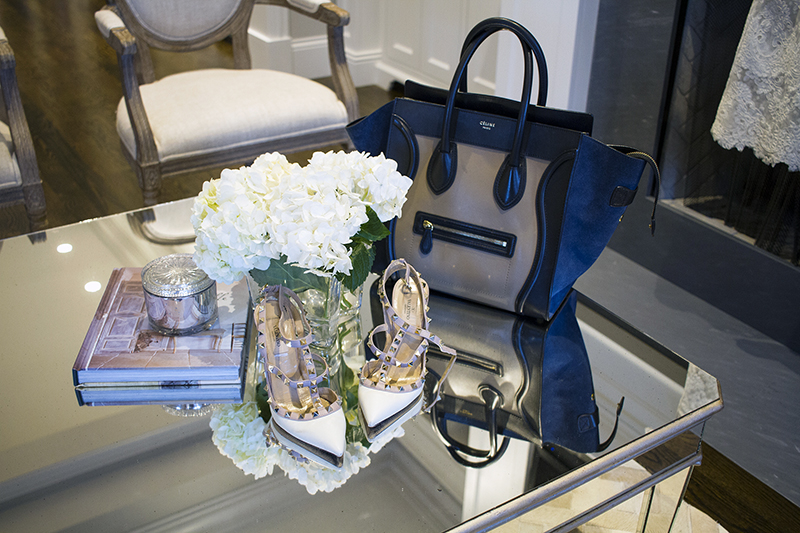 FF: Restaurant?
I am a huge foodie and I love to experience new dishes and enjoy some good food! Three of my favorite places in Chicago are JUNO for sushi, NEXT for fine dining and the experience, and RPM steak for the meat.
FF: Tell us something about yourself that we might not expect.
I'm actually a pretty decent cook (at least according to my hubby) haha! But I enjoy cooking and I love cooking for people.
FF: Finish the sentence: If I was not a fashion blogger I would be…
A bowling pro, haha! No, no — jokes aside. A designer, or at least still work with fashion in one way or another.
Isn't she awesome!? Gotta love a pretty, smart girl with a sense of humor. Be sure to checkout Elina's blog and Instagram feed for daily outfit inspirations and a glimpse into her fab life.

All photos by Dietrich Zeigler for FashionFiles