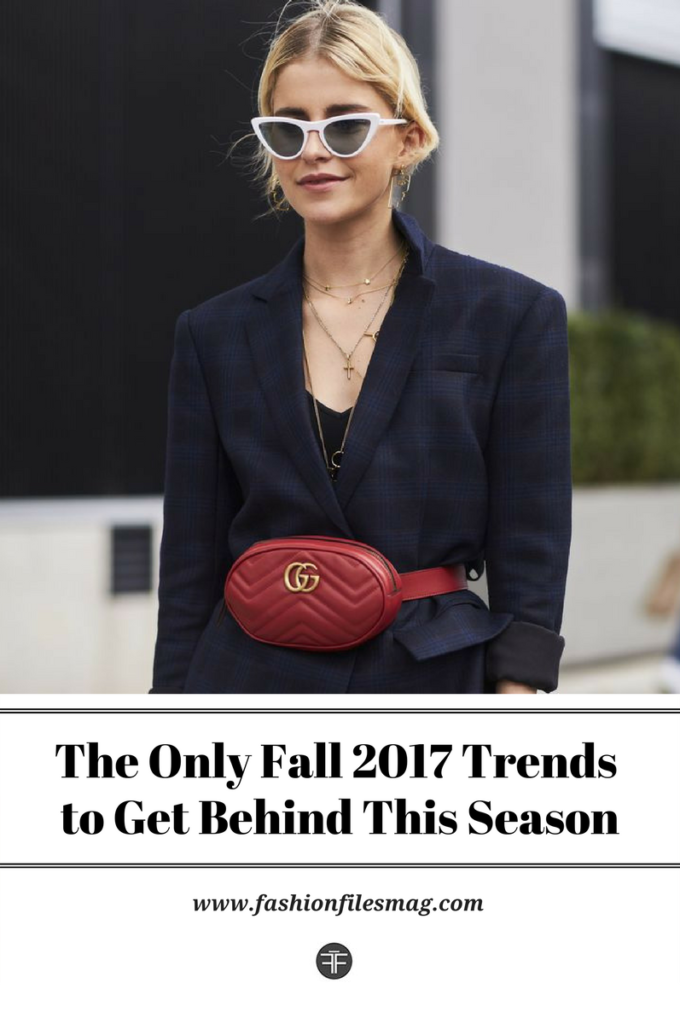 Fall is finally here! We don't know about you but we are beyond excited that sweater weather has arrived solely because it's time to check-in on alllll the fancy fall 2017 trends to sport for the new season.  This time around we are looking at the runways and the street style set to see what trends we should be getting into.
So here are the only fall 2017 trends to get behind this season. Oh and you know what else?! They all are super easy to style.
Buy a Beret
Chic berets swept the fall 2017 runways back in February,  but it wasn't until this summer's couture show goers and the SS18 street style set sporting the Parisian head toppers that set the berets in full MUST-HAVE mode. There are countless versions of berets out there, but the one that fashionistas have been flocking toward most is the leather beret. Of course, you can always opt out for color too, and one of our favorites is the burgundy beret. The part about the accessory is that you can pair it with literally everything: from jeans and a tee, to dresses, blazers and trousers.

Get an Oversized, Plaid Blazer
Another strong and favorite of the fall 2017 trends is the oversized, plaid blazers seen in every fashion capital this season. The trend of course stems from the runways, this time from the Balenciaga SS17 runway, but transcended nicely into fall.  Pair the plaid with literally anything — the rule is there is no rule.  You only want to make sure that your blazer is oversized and has boxy shoulders.

Snag a pair of red, hot boots
Yes, white booties might have been seen everywhere as of late, and rest assured they are not going anywhere, yet! But there's a new boot trend for fall that is super exciting. Namely, the resurgence of the red, hot boot. OTK, under-the-knee, slouchy, sock, kitten heal, hi-heel, you name there is a red boot for that. The best way to wear the trend? Pair the fiery accessory with a neutral ensemble. Our favorite way to wear it? See below 😉 + the next trend.

Wear Red on Red on Red
Speaking of red hot, another major fall 2017 trend is putting red on red on red together. The color was HUGE on the fall 2017 runways, thanks primarily to Comme des Garçons, McQueen and Versace. In real life, cherry red shirt, onto red boots, onto a red skirt is all you need. You really can't mess this one up.

Sunnies get super small
Yes, that's right. Thanks to Prada and Balenciaga, we are going back in time to the beloved 90s (again) and should be sporting sunglasses that are much, much smaller than the ones we are used to. Now the question is, will they be able to protect us from the sun? Mmmmm, not too sure. But hey, the smaller the glasses the bigger the impact. We wonder if Anna W will switch hers this fall?

So there you have it. The only fall 2017 trends you need to wear and there are only five of them. Of course, you don't have to wear all five, but do tell…which one(s) are you excited about this season?