Back in 1999 Canadians Eran Elfassy and Elisa Dahan, the designer duo behind Mackage, launched their company with one thing in mind: to make outwear cool again. They have not looked back. Almost two decades later Mackage has become the place to shop for outwear boasting customers like Madonna, Gwyneth Paltrow and Kate Winslet, to name a few. And even though the brand is based in Canada, Americans have coveted their coats for a while: case in point, Mackage's flagship store in trendy SoHo in New York City.
We chatted with Eran and Elisa about the season's must-haves, the secrets behind their brand and why it is so important to invest in a good coat. (hear that, Chicago? )
FashionFiles: Since your launch in 1999, Mackage has become one of the most prestigious contemporary outerwear brands. What is the philosophy of your brand?
Eran & Elisa: Mackage was created around the belief that outerwear in an integral element of fashion. When the weather calls for layering, a coat isn't just part of an outfit – it becomes the outfit itself.
FF: Where does the name Mackage come from?
E & E: The name Mackage actually came from Eran's niece who was trying to pronounce "maquillage" (French for make-up) and couldn't pronounce it properly.
FF: Why did you decide to focus on outwear to begin with?
Eran: My brothers had a company that specialized in leather. They had the expertise, but catered to an older audience.  19 years ago, there were no brands focusing on a cool contemporary fit in the outerwear market, so that became our focus when creating our brand. We started with a leather collection that slowly evolved to include wools with leather details, our now classic down coats, etc. Leather detailing has become our signature trademark at Mackage, along with our tailored silhouettes.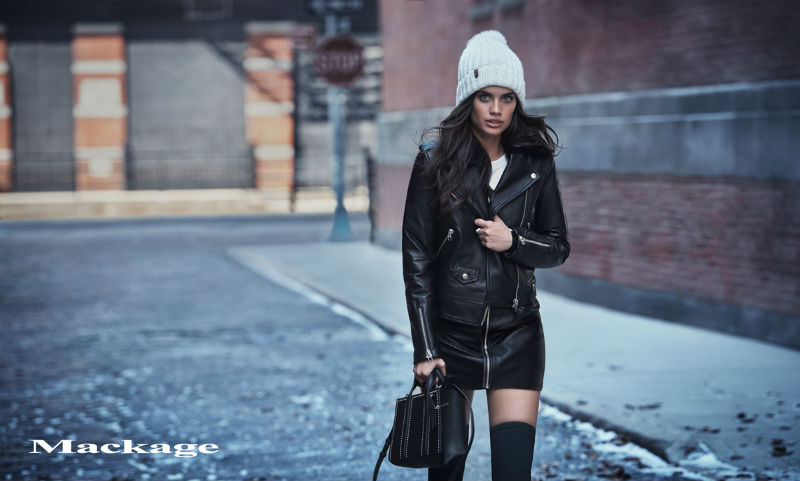 FF: What do you attribute your success to?
E & E: We feel we got into fashion outwear at the right time. It was not a crowded space in fashion and there was a real need for more fashionable outerwear.
FF: Is the brand where you want it to be?
Eran: Even today, I don't think we have reached the level of success we want to be at. Our company is growing and expending fast, but we don't like to think of it as success but rather the result of our dedication to fashion.
FF: What is the most important thing you've learned while growing your business?
Eran & Elisa:  We have learned on a daily basis. From opening new doors at retailers worldwide and more recently opening our own branded stores. This made us learn to always remember where we started from and that our product is what is who we are. If the product is beautiful and functional, it will grow our business.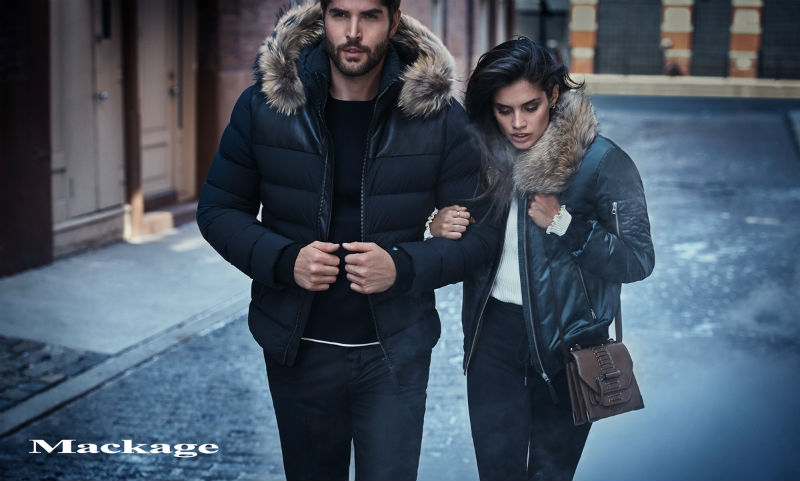 FF: Who is the most exciting person that's worn your clothes, and conversely, who would you like to see wearing your coats?
E & E: This is tough as there is some many amazing people who have worn our pieces like Halle Berry, Gwyneth Paltrow, Kate Winslet, Madonna, John Legend…
Elisa: I would love to dress Kristen Stewart
Eran: If I could dress anyone it would be Pharrell Williams
FF: In FA13 you also introduced a handbag collection. Why did you decide to venture into accessories?
E & E: Starting as a leather company it was a natural evolution to launch handbags.
FF: Outerwear is an important staple for a city like Chicago. Tell us, what should we be buying this fall?
E & E: Leathers and wools are perfect for Chicago. We would recommend the Baya DL that has a light weight down insulation. This way, you can pull the leather look while keeping warm on those chilly days.
FF: What about your survival tips for the harsh Chicago winters?
E & E: You need the Moritz-D! It's one of our signature down parka for Men and Rena-D for Women. They are long and has a down fill power of 800, the warmest in the industry.
FF: Why is it important to invest in a good coat?
E & E: Outerwear should be among your top three wardrobe investments, alongside shoes and handbags. These are the key items that anchor your look. Your coat has the dual role of providing not only style, but also warmth and protection. When you invest in high quality outerwear you can enjoy for years to come.
FF: What are some of your favorites from your current collection?
Elisa: One of my favorite piece this season is the Karolina Trench, it has a fur collar and comes with a removable down vest. With this combination, Trench season is longer than ever.
Eran: I'm a big fan of leather jackets; for me, Magnus is a perfect leather jackets with a removable hoody. You can have two different looks with the same jacket.
FF: What about your Mackage must-haves of all time?
E & E: We must say our signature Mackage collar like Adali or Trish is a must-have. We launched this collection 11 years ago, and we continue to see year after year people loving these styles.
Shop all Mackage coats